OUR RECOMMENDATIONS FOR.......

CHECK OUT THE RESOURCES PAGE!

Gaining and maintaining a balanced body through exercise and self care.
________________________
MOVEMENT & EXERCISE
For both strength and endurance exercise we recommend using your perceived exertion, rather than your heart rate, to assess the intensity level of the workout.
What Is Perceived Exertion and Rating of Perceived Exertion (RPE) scale?
Perceived exertion is how hard you feel your body is working. It is based on the physical sensations a person experiences during physical activity, including increased heart rate, increased respiration or breathing rate, increased sweating, and muscle fatigue.
Rating of perceived exertion (RPE) scale is a widely used and reliable indicator to monitor and guide exercise intensity. The scale allows individuals to subjectively rate their level of exertion during exercise or exercise testing (American College of Sports Medicine, 2010).What makes the RPE scale particularly effective for monitoring exercise intensity is that it's a relative scale applied specifically to you. The RPE scale allows for daily changes in your training. You can push harder than usual on days where you feel great, and back off on days where you feel sluggish.The RPE scale runs from 0 – 10. The numbers below relate to phrases used to rate how easy or difficult you find an activity.
How to Use the Rating of Perceived Exertion Scale
After warming up at a light level of exertion, begin your workout. After a few minutes, assess your RPE from the scale. If you are still at an RPE under 4, pick up your pace or add resistance to increase your intensity.
Working at anything between 4 to 7 on the 0-10 scale will count as aerobic exercise.

Anything above 6-7 on the 0-10 scale will be anaerobic exercise.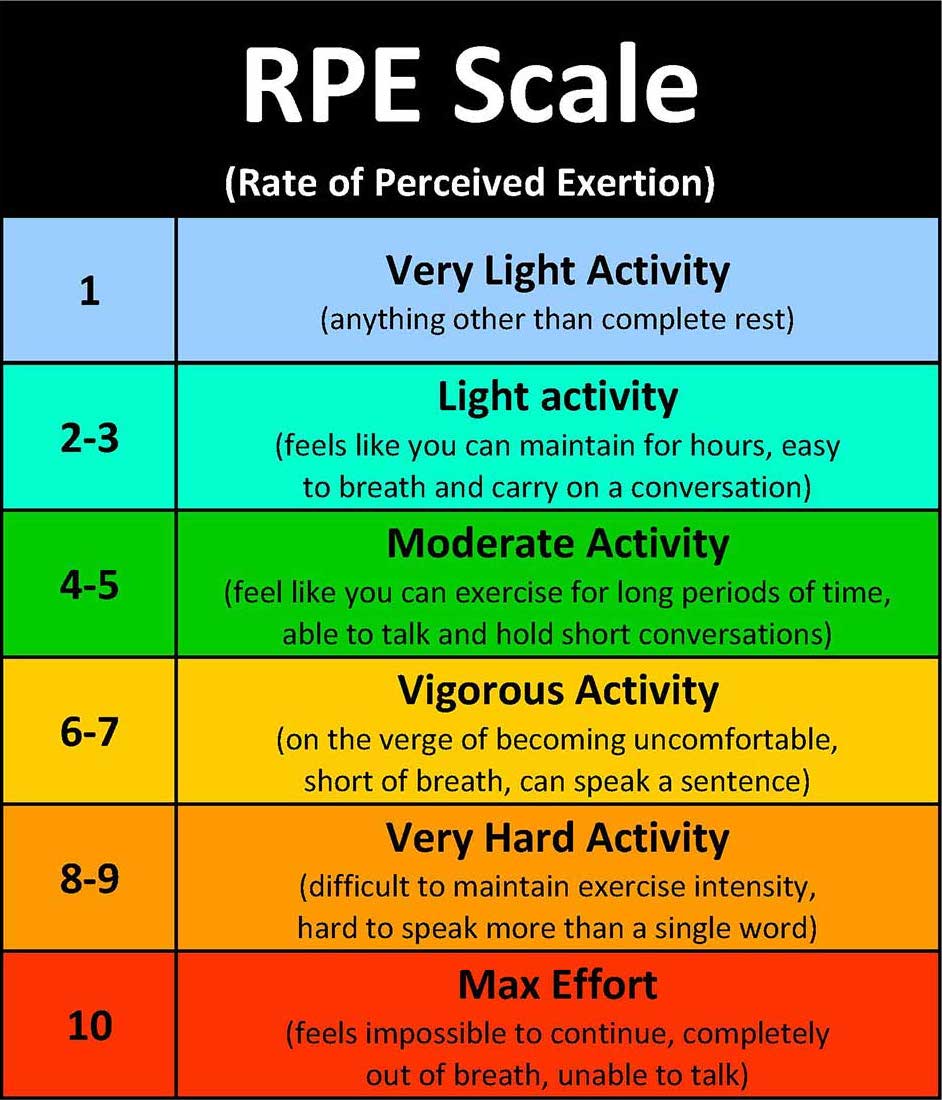 STRENGTH/RESISTANCE TRAINING

The American Heart Association recommends strength training at least twice per week.
Strengthening your muscles gives you the ability to perform everyday activities and helps protect your body from injury. Stronger muscles also lead to a boost in your metabolic rate, which means you'll burn more calories even when your body is at rest.
Strength training can be done at home or in the gym.

Getting started
If you have a chronic condition, or if you're older than age 40 and you haven't been active recently, check with your doctor before beginning a strength training or aerobic fitness program.

Before beginning strength training, consider warming up with brisk walking or another aerobic activity for five or 10 minutes. Cold muscles are more prone to injury than are warm muscles.

Choose a weight or resistance level heavy enough to tire your muscles after about 2 sets of 10 to 12 repetitions


To give your muscles time to recover, rest one full day between exercising each specific muscle group.

Also be careful to listen to your body. If a strength training exercise causes pain, stop the exercise. Consider trying a lower weight or trying it again in a few days.

It's important to use proper technique in strength training to avoid injuries.

Remember to breathe as you strength train.
The following infographic from the American Academy of Sports Medicine has good information including an excellent Exercise Plan.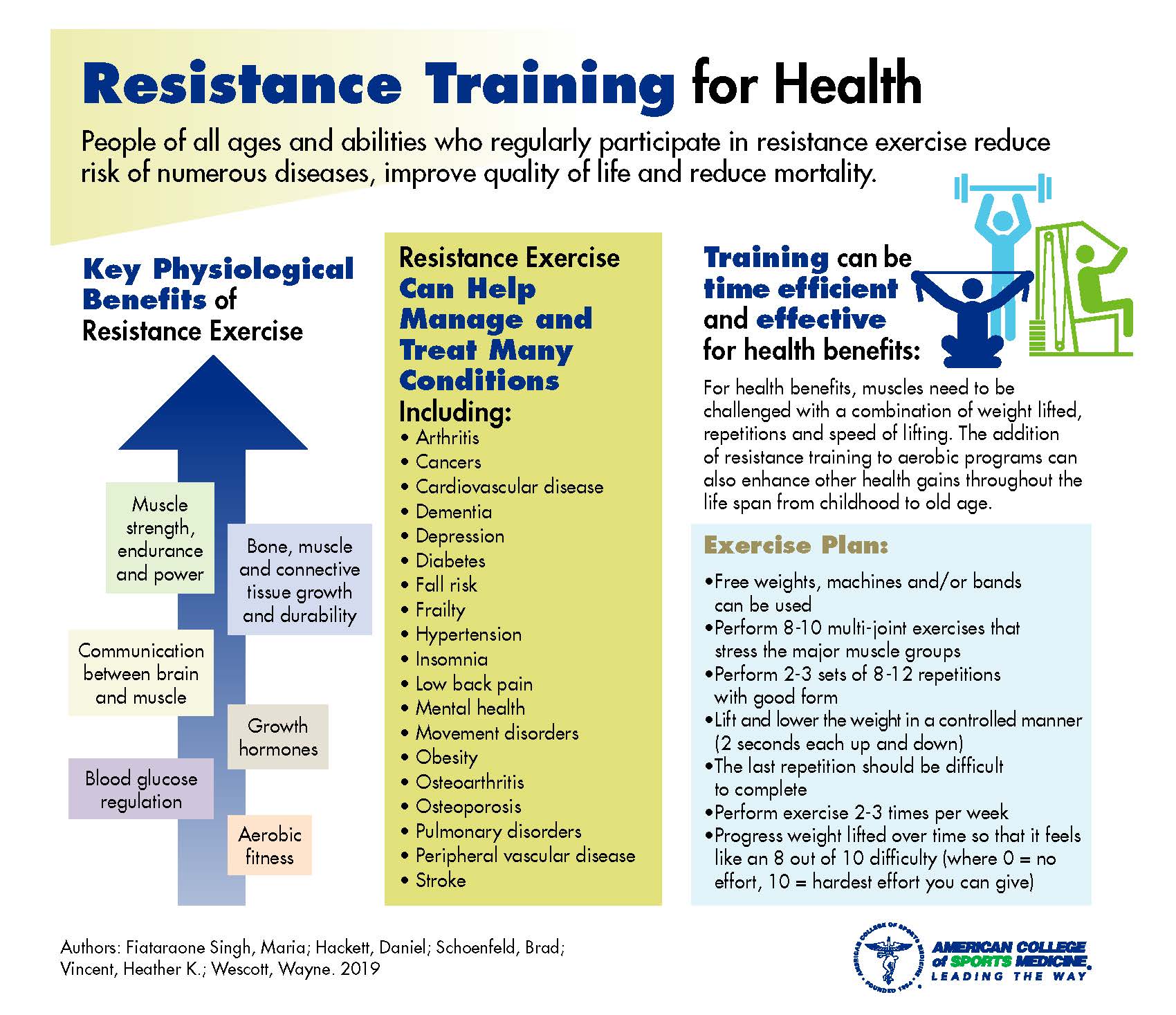 ENDURANCE/AEROBIC EXERCISE
These recommendations are based on the
Physical Activity Guidelines for Americans, 2nd edition, published by the U.S. Department of Health and Human Services, Office of Disease Prevention and Health Promotion. They recommend how much physical activity we need to be healthy. The guidelines are based on current scientific evidence supporting the connections between physical activity, overall health and well-being, disease prevention and quality of life.
Recommendations for Adults
Get at least 150 minutes per week of moderate-intensity aerobic activity or 75 minutes per week of vigorous aerobic activity, or a combination of both, preferably spread throughout the week.

Add moderate- to high-intensity muscle-strengthening activity (such as resistance or weights) on at least 2 days per week.

Spend less time sitting. Even light-intensity activity can offset some of the risks of being sedentary.

Gain even more benefits by being active at least 300 minutes (5 hours) per week.

Increase amount and intensity gradually over time.
Recommendations for Kids
Children 3-5 years old should be physically active and have plenty of opportunities to move throughout the day.

Kids 6-17 years old should get at least 60 minutes per day of moderate- to vigorous-intensity physical activity, mostly aerobic.

Include vigorous-intensity activity on at least 3 days per week.

Include muscle- and bone-strengthening (weight-bearing) activities on at least 3 days per week.

Increase amount and intensity gradually over time.
FLEXIBILITY
When should I stretch?
The best time to do flexibility exercises is when your muscles are already warm so they can stretch farther without tightness or pain. If you're doing only stretching exercises, warm up with a few minutes of easy walking first to warm up your muscles. If you're doing endurance or strength exercises, stretch after, not before.
How much do I need?
Stretch slowly and smoothly into the desired position, as far as is comfortable for you without pain. Do what is comfortable for you. If you're not used to stretching, hold the stretch for about 10 seconds. The more often you stretch, the easier it will become. Eventually, you will be able to hold each stretch for 30 to 60 seconds comfortably.
Tips for safe stretching:
Relax and breathe normally while stretching.
A stretch should be smooth and slow, never jerky or bouncy. This can cause muscles to tighten and may result in injuries.
As you become more flexible, try reaching farther in each exercise. A mild pulling feeling during a stretch is normal. Sharp or stabbing pain or joint pain means you should stop, you're stretching too far.


BALANCE AND COORDINATION
Having good balance is important for many activities we do every day, such as walking and going up and down the stairs. Exercises that improve balance can help prevent falls, a common problem in older adults and stroke patients. They can also benefit those who are obese since weight is not always carried or distributed evenly throughout the body. A loss of balance can occur when standing or moving suddenly. Often we are not fully aware that we may have weak balance until we try balance exercises.
How much do I need?
Balance exercises can be done every day or as many days as you like and as often as you like. Preferably, older adults at risk of falls should do balance training 3 or more days a week and do standardized exercises from a program demonstrated to reduce falls. If you think you might be at risk of falling, talk to your doctor.
Exercise forms that require good balance, such as Tai chi, dance and Yoga also may help prevent falls. These forms of exercise require balance in different planes of motion of the body and require more coordination. The increased difficulty of these exercises will enhance balance and may decrease fall risk.

Try these balance exercises:
See how long you can stand on one foot. A good goal is to be able to stand on each foot for thirty seconds without touching down.

If you find standing on one foot very challenging at first, try this progression to improve your balance:
Hold on to a wall or sturdy chair with both hands to support yourself.
Next, hold on with only one hand.
Then support yourself with only one finger.
When you are steady on your feet, try balancing with no support at all.

Stand with one foot directly in front of the other, heel to toe. This is called a tandem stance. Your goal is to be able to perform this exercise for thirty seconds without touching down. Try it with the right foot behind and then switch to having the left foot behind. If this is too difficult then widen your stance a little bit, until you find the position where can balance for thirty seconds. Challenge yourself to eventually narrow the stance as much as possible.

Walk normally in as straight a line as you can as though walking on a tightrope or a very narrow plank.

SLEEP
We recommend the work of neuroscientist and sleep researcher, Matthew Walker.

Walker is a professor of neuroscience and psychology and the director of the Center for Human Sleep Science at the University of California, Berkeley.

He wrote Why We Sleep: The New Science of Sleep and Dreams.
He also has an excellent Ted Talk about sleep.
Diet and nutrition play an important part in our overall health and in the body's ability to heal from trauma.

We will discuss these aspects of your health with you during your treatment and refer you to a nutritional expert as needed.
ERGONOMICS OF THE WORK STATION: The US Department of Labor OSHA site

Computer Workstation eTool is an excellent reference for proper sitting ergonomics,

except for the pictures that they use to demonstrate proper posture.
Use the pictures below as your ergonomic computer station sitting and standing examples.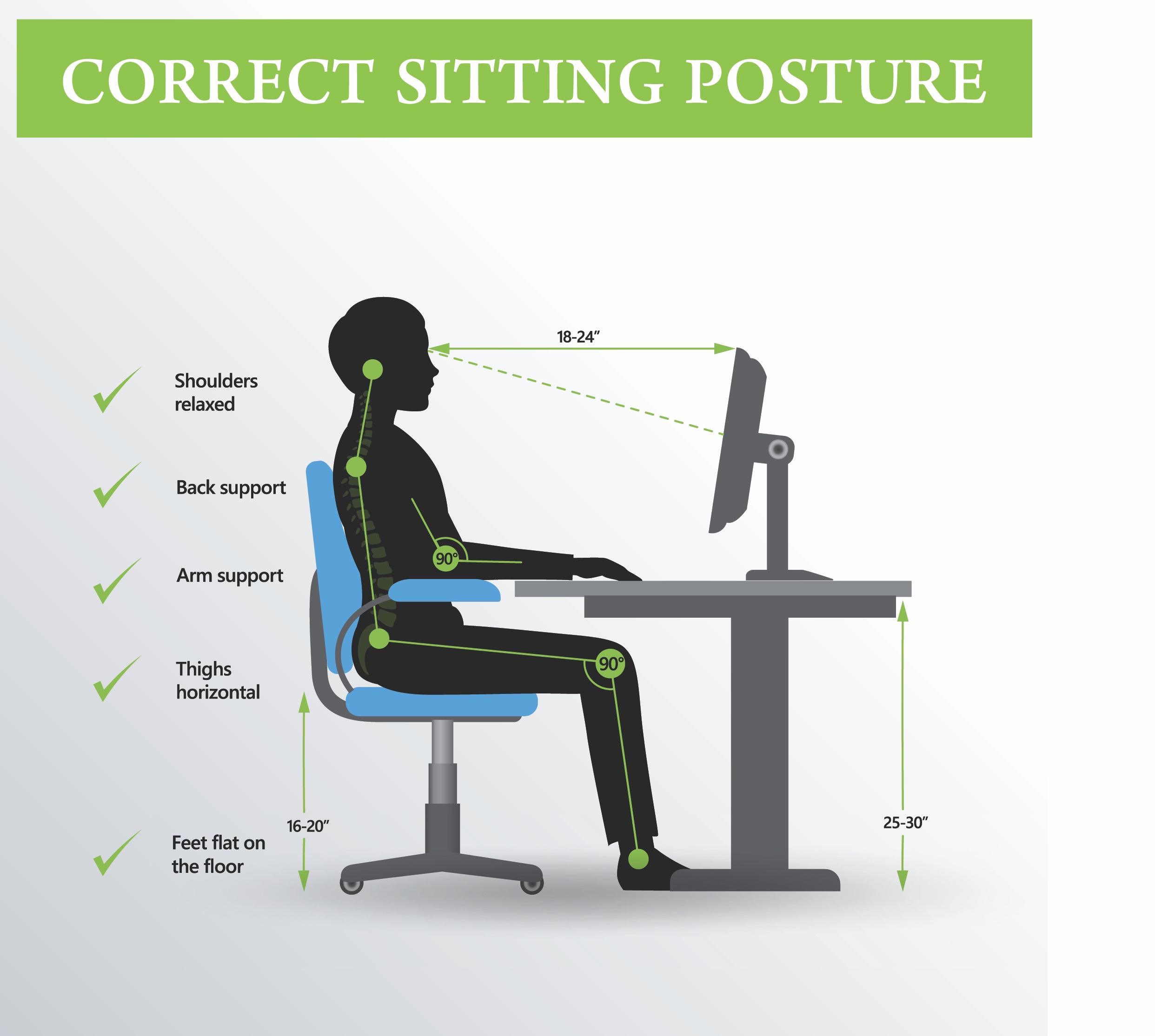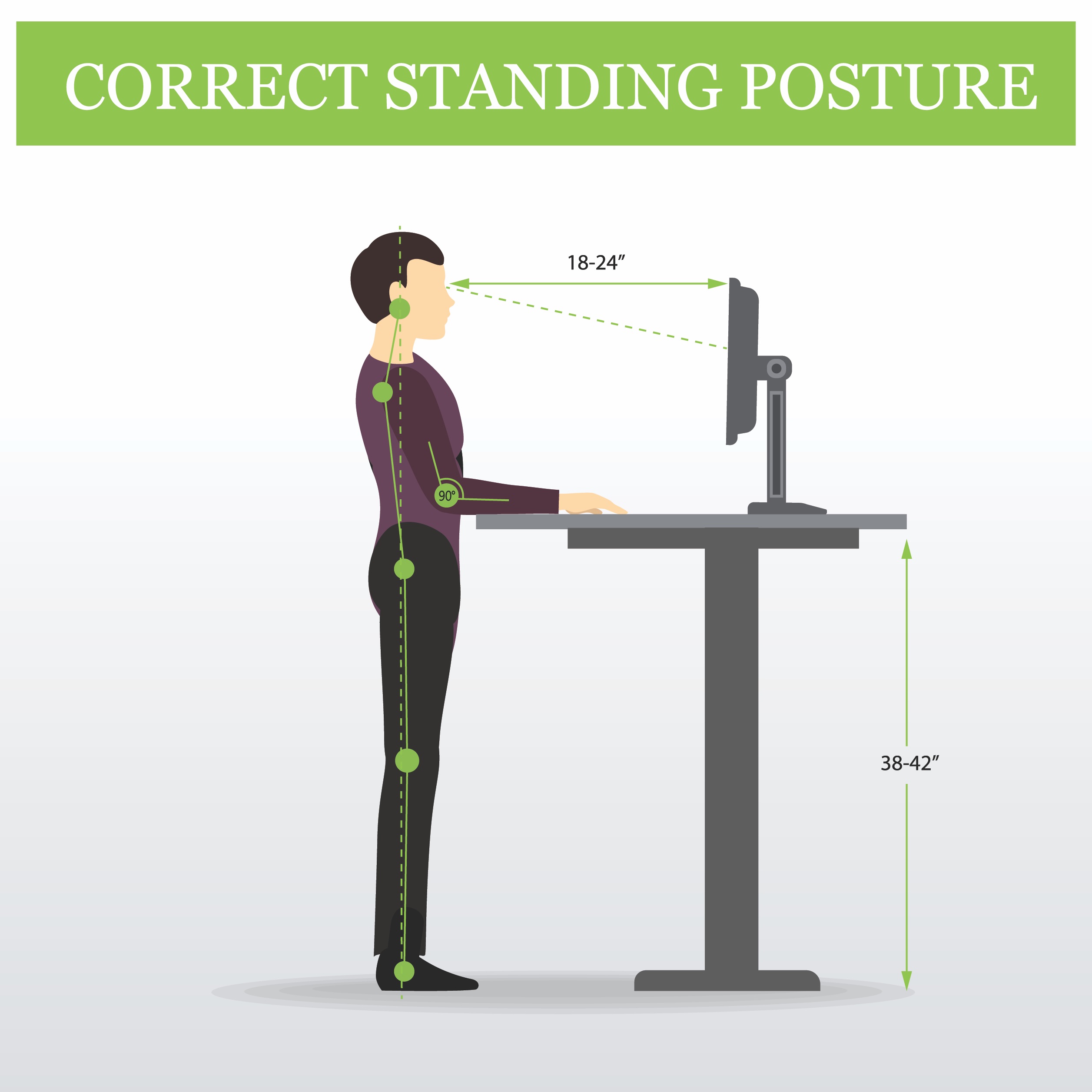 SITTING IS DEADLY.......well that's overstating it a bit. It is not healthy to sit for prolonged periods of time.

Sit-Stands desks have been a great contribution to the workplace environment....and now they are actually affordable. But neither do we recommend standing all day long.....everything in moderation.

It is best to try to stand and move, or move (if already standing) about every hour. These hourly exercises do not have to be for an extended period of time.

There is also a place for rest during the day....for getting our bodies away from the forces of gravity. Lying down in a comfortable position during the day to meditate or read. Taking a short nap. Taking a "siesta".

And it is not just time spent sitting at work, it is overall sitting time, 24/7, that needs to be addressed.

Here is the original article that prompted so many media sites to exaggerate (to a certain extent) the dangers of sitting:
Prolonged Leisure Time Spent Sitting In Relation To Cause-Specific Mortality In A Large US Cohort

The following two You Tube videos have good information about posture and ergonomics put together in a very viewer friendly package.
Welcome to our You Tube Channel which is still under development. The channel will house our patient exercise videos in the future.

TAPING SUPPLIES
Kinesio Tape
There are various manufacturer's of this type of tape. Each brand is a little different. Some have more aggressive adhesive that keeps the tape on longer and is less impacted by getting wet. But the more aggressive adhesive might be aggravating to some skin.
We do not recommend buying the pre-cut tape. If we recommend kinesiotape as a form of treatment, we will provide the instruction on cutting and application.
Here are a few options:

Quick Tape
: Taping for plantar fascitis. It is pricey but it is worn for 5-7 days. We can get these wholesale.